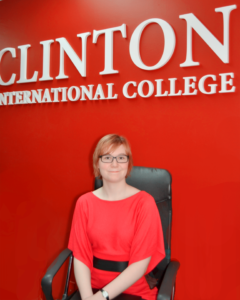 Welcome! As principal, it is my pleasure to welcome you to Clinton International College's website. Allow me to introduce some of the incredible services our school has to offer our students.
As a member of the educational leadership at our school and an educator here myself, I have had the distinct pleasure of working with world-class, dedicated teachers, a deeply caring guidance staff, and an administration team with a relentless drive to make Clinton International College an incredible school. We strive to give students an enriching, memorable and empowering high school experience that will not only educate them invaluable subjects like English, chemistry, and business but also educate them on how to be healthy, resilient leaders in a competitive world.
We ensure that our teachers are highly trained in both matters of curriculum and compassion. Teachers carefully prepare lesson plans for a wide variety of courses (including all those necessary for an Ontario Secondary School Diploma) in order to craft interesting and informative lessons for their students. All of our teachers are certified and formally trained to deliver the best educational experience possible for your child.
Among the other great things Clinton has to offer is flexible scheduling to meet a variety of student needs. Students may attend full-time or part-time individual or group classes as they work towards their diploma. We also have a keen focus on teaching all courses with English Language Learners in mind, and many of our teachers have Additional Qualifications (AQs) in ESL education.
It is our most sincere hope that your son or daughter will be the newest member of our school community, enjoying our small class sizes, friendly support staff, and peers from all over the world.
If you have any questions, I invite you to contact our school, arrange an appointment, or drop by for a consultation to see for yourself what Clinton International College has to offer.
I look forward to meeting you and your child soon!
Warmest regards,

Megan Colson
Principal
Clinton International College